Three Critical Pillars are Vital for a Successful Digital Identity Verification Implementation: Watch the Webinar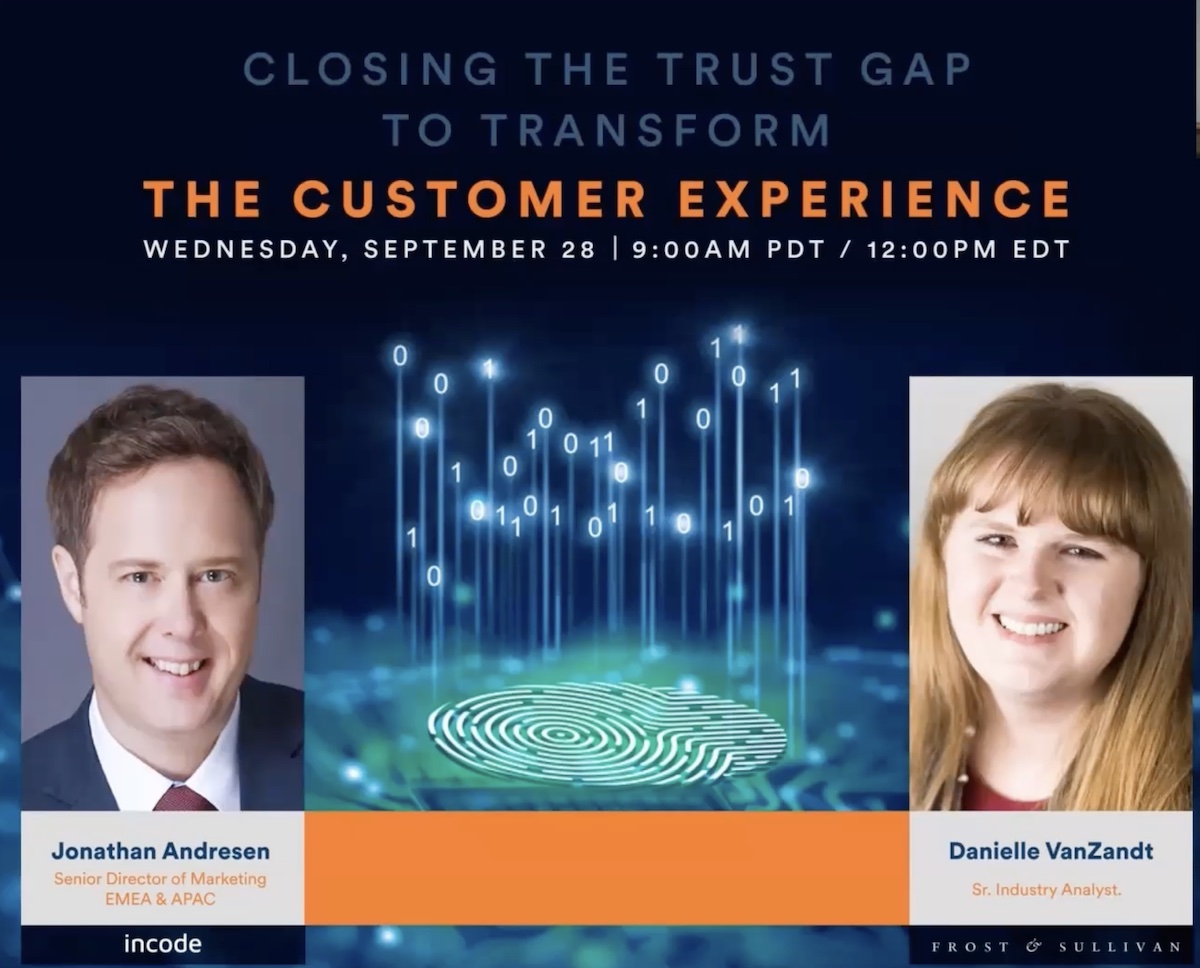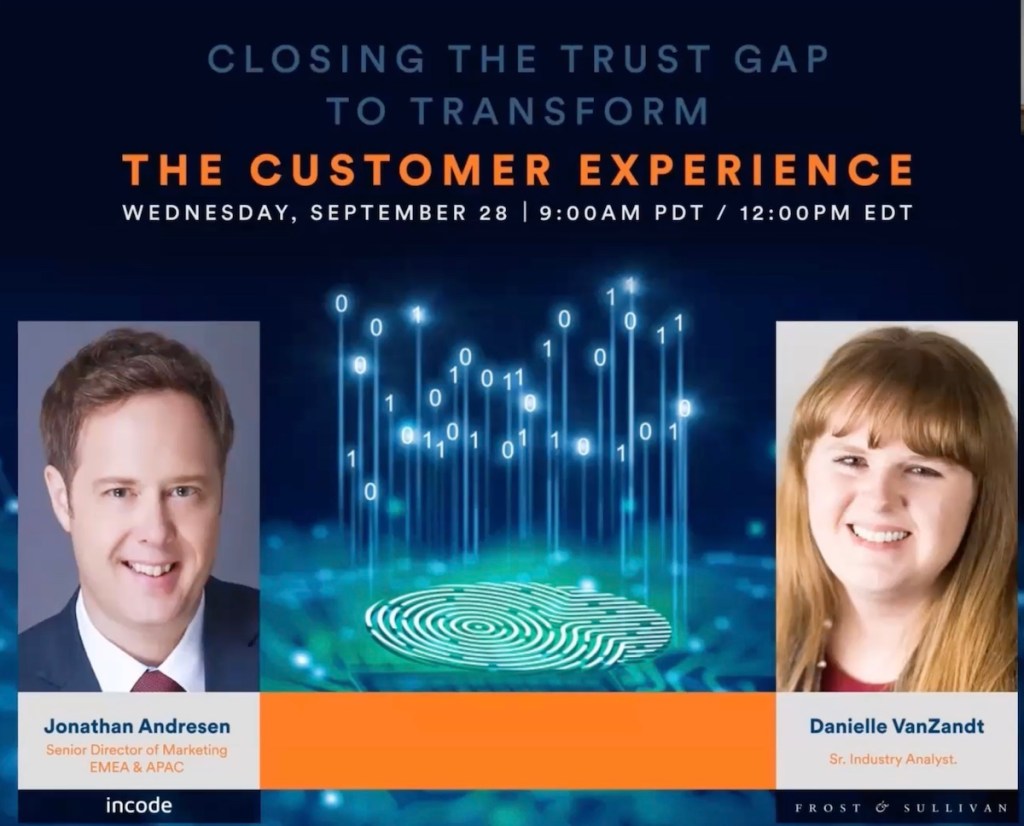 On September 28, 2022, Incode Technologies and Frost & Sullivan jointly presented a webinar entitled "Closing the Trust Gap to Transform the Customer Experience." The presenters were Danielle VanZandt of Frost & Sullivan and Jonathan Andresen of Incode.
Danielle VanZandt is a Senior Industry Analyst for Frost & Sullivan's Security research team. She heads global growth opportunity research, trend analysis, and market sizing for the Commercial and Public Safety practice, focusing on physical, cyber, and logical security technologies and their ongoing convergence as the security world digitizes.
Jonathan Andresen is the Senior Director of Marketing and Products for Incode Technologies. Mr. Andresen joined Incode from Forcepoint in January 2022. He offers over 25 years of experience in the enterprise IT and telecommunications sector, and is joining us from Asia, where he relocated in 2003.
The two presenters focused on the challenge of "trust" for institutions undergoing digital transformation, and the presence of a "trust gap." Specifically, organizations that deploy Digital Identity Verification (DIV) and authentication platforms encounter resistance from users concerned about personal data protection and privacy controls. This has adverse consequences for businesses: 40% of customers abandon onboarding journeys in digital channels without completing the process.
Among the ways to overcome this trust gap, VanZandt recommends when organizations implement a DIV solution, they adhere to three critical pillars.
The three critical pillars
The first pillar is an improved customer journey.
To avoid onboarding abandonment, DIV vendors must implement onboarding processes that are fast, frictionless, and ideally contactless.
This applies to all aspects of onboarding, including not only enrolling biometric data, but also enrolling other onboarding data such as identity documents.
As much as possible, all enrollment activities should take place on the customer's own device and use DIV vendor-developed advanced artificial intelligence and machine learning techniques. This removes the need to send data to distant systems for processing by third parties or human manual verifiers.
The second pillar is long-term business scalability and new revenue creation.
The DIV solution must allow firms to scale up-and-out, not only by adding users, but by adding new functions as the firm expands its business.
The DIV solution must be evergreen, allowing effortless addition of new capabilities, such as behavioral biometrics.
The DIV solution's expandability must support new revenue streams from businesses, such as new banking options, expanded gaming capabilities, improved healthcare services, and expanded experiences for hospitality guests.
The third and final pillar is inherent security and data privacy.
Ease of use must NOT be achieved at the sacrifice of security or privacy.
The DIV solution must be designed for privacy at the outset, with embedded security at the core of the DIV solution.
The DIV solution design and architecture must support compliance with privacy laws and regulations in all regions where the firm does business.
A well-designed DIV solution must limit human interaction with biometric data and limit or control access by third parties.
Query-based one-to-one identity verification is preferable to performing large one-to-many database comparisons.
Incode was pleased to work with Frost & Sullivan on this webinar, which provided significant insights to the attendees. Now we want to share these insights with you. To view the webinar recording, click on the link below.
If you would like more details on the topics Danielle and Jonathan discussed during the webinar, please download the associated Executive Brief from Frost & Sullivan, which discusses closing the trust gap and the three pillars of a DIV solution in more detail.