Jumeirah and Incode redefine luxury for the hotel industry with digital check-in and exceptional guest experiences.
Industries: Hospitality, Tourism
Use Cases: Frictionless Arrival, Fraud Detection, Customer Onboarding / Verification
Solution: Incode Omni
BENEFITS:
Streamlined and automated onboarding: minimal data entry.
Celebrated worldwide as "best check-in ever".
Continuous security optimization and proven fraud reduction.
Expedited check-in as fast as 1.5 min.
QUOTE:
"It's time for our guests to say goodbye to the hassle of traditional check-ins and embrace the future of hospitality with our cutting-edge facial recognition technology. Our innovative solution ensures a seamless and secure guest experience, setting a new standard for the industry."
– Sanjay Sharma, Head of IT at Jumeirah Group
CLIENT:
In December 2021, Jumeirah Hotel & Resorts, the global luxury hospitality company and member of Dubai Holding, partnered with Incode Technologies, Inc., the leading provider of world-class identity solutions to transform the hospitality industry with contactless and personalized experiences.
CONTEXT:
In response to the ever-evolving consumer preferences favoring luxurious and personalized experiences, leading hoteliers have been striving to craft truly unique, bespoke services.
Making a distinguished impact on the global hospitality market for more than two decades, Jumeirah wanted to offer the safety and convenience of digitally-driven stays and take away any customer anxiety around waiting time and traditional points of friction.
CHALLENGES:
Jumeirah aimed to harness the power of emerging technologies to establish an unprecedented standard of excellence for their hotel guests. However, many providers' traditional techniques were difficult to implement and scale.
The client wished to enhance its customer onboarding through:
Simple and intuitive step-by-step process with minimal queues
Unparalleled security and guaranteed privacy
GDPR compliance, document validation,fraud detection
Robust customization for bespoke, customer journeys
Incode developed a fully automated and tailorable solution to revolutionize the Jumeirah brand with a next-generation, frictionless experience.
SOLUTIONS:
Incode Omni provided Jumeirah with a one-stop-shop for Biometric Face Capture/Matching, Optical Character Recognition (OCR) data extraction, and Account Authentication. The platform was custom-tailored to Jumeirah's needs and integrated into their onboarding flow.
Thanks to Incode Omni, Jumeirah ensures document authenticity, GDPR compliance and liveness detection without jeopardizing guest comfort. The platform is currently in operation at 4 of Jumeirah's properties.
RESULTS:
• Enabled greater business efficiency and effectiveness

By integrating Incode Omni's in-house developed identity verification, age verification, and fraud detection capabilities into their existing guest onboarding flow, the client automated its labor-intensive, data entry operations.

• Vastly improved guest journeys with quicker processing times per guest
Digital check-in streamlines Jumeirah employee workflows without time wasted on traditional check-in procedures.

• Seamlessly integrated experience

Once onboarded, guests use their most unique attribute – their faces – to fully manage their respective journeys. From booking on Jumeirah.com, to accessing a digital key and ordering amenities and room service, the identity-centric journey translates into the industry's most transparent experience; all while ensuring that privacy and security remain paramount.

• Ensured compliance and fraud prevention with a robust identity verification

Document authenticity, compliance with GDPR, and fraud detection were big challenges for Jumeirah. iBeta Level 2 compliant and NIST conformant Incode Omni catches spoofing attempts while still prioritizing guest comfort and privacy.
SUMMARY
This transformational project was a resounding success that achieved its goal of deploying a convenient, instantaneous, and secure identity and verification solution across Jumeirah facilities. Customers visiting the luxury hotel chain are treated to an exclusive, frictionless experience that delivers the "wow" factor each stay. Incode has elevated the Jumeirah business, by eliminating friction in the Jumeirah guest journey and creating a trusting relationship between the hotelier and its customers.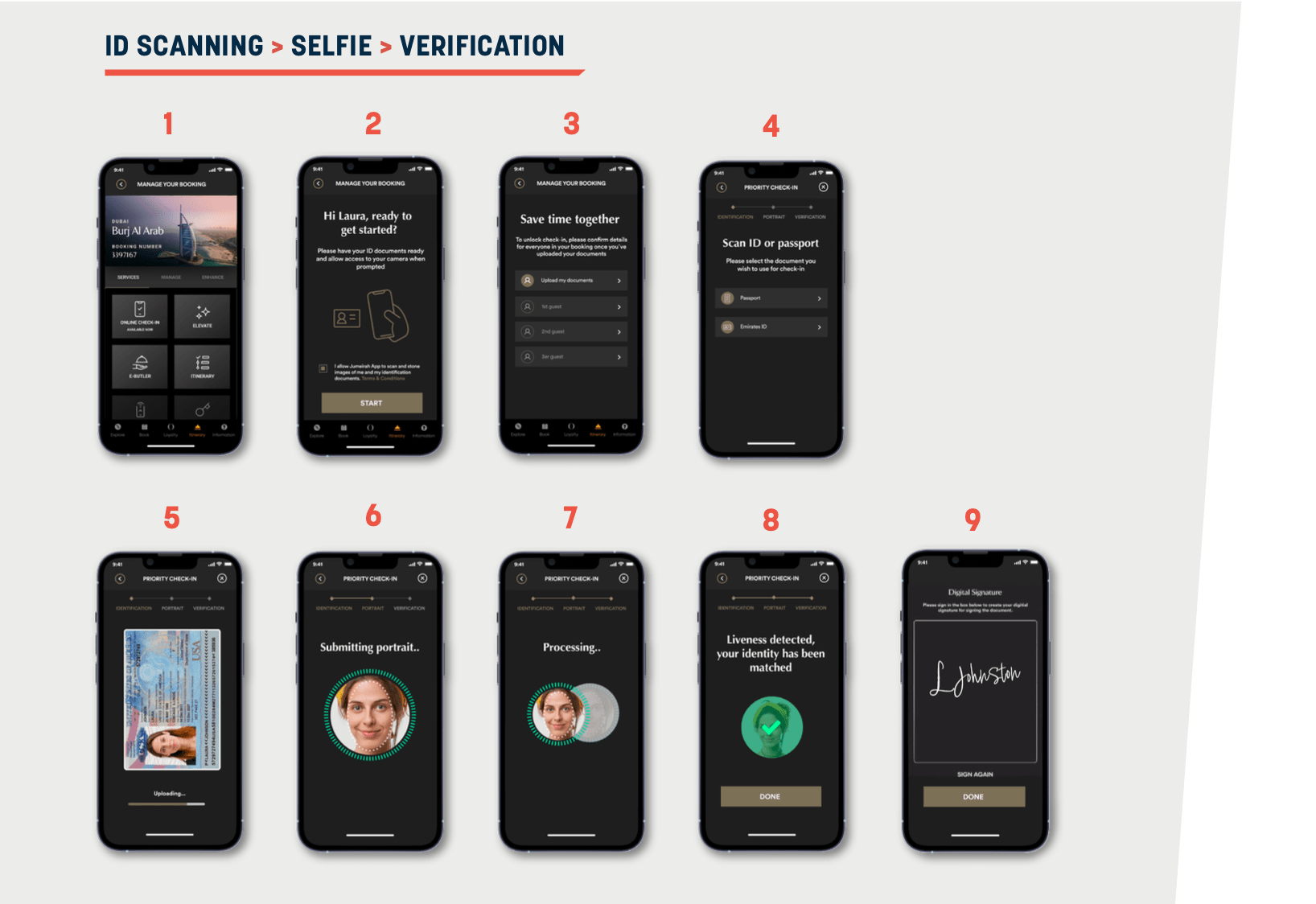 —
About Incode

Incode is the leading provider of world-class identity solutions that is reinventing the way humans authenticate and verify their identity online to power a world of digital trust. Incode's revolutionary identity solutions are unleashing the business potential of universal industries including the world's largest financial institutions, governments, retailers, hospitality organizations, and gaming establishments by reducing fraud and ultimately, transforming human interactions with data, products, and services.