Viva Aerobús and Incode are digitalizing the airport ecosystem for Mexico with seamless, contactless passenger experiences
Industries: Travel, Aviation
Use cases: Customer Onboarding/Verification, Authentication, Travel Facilitation
Solution: Incode ID
BENEFITS
Easy mobile onboarding, bolstered by swift identity verification using a selfie and a government identity document.
Convenience and simplicity combined – register once – use your digital wallet anywhere you travel with Viva Aerobús and never print your physical boarding pass again.
Frictionless and touchless end-to-end travel, from ticket purchase, check-in through security and boarding while creating more connected and safe traveler experiences.
Speed and efficiency – the ability to identify users securely in less than 2 seconds.
QUOTE
"Viva Aerobús and Incode have a prime opportunity to revolutionize the passenger experience in Mexico together. By harnessing the power of transformative identity solutions, we aim to offer a comprehensive and distinctive digital travel experience for passengers. We extend an invitation to other airports and airlines to collaborate on technology adoption, enabling us to truly digitize travel processes for the benefit of passengers."
– Guillermo Herrera, Director of Information Technology at Viva Aerobús
CLIENT
In December 2022, Viva Aerobús, Mexico's leading ultra-low-cost carrier (ULCC), has partnered with Incode Technologies Inc., a leading identity company, to develop and implement an innovative identity verification solution called Viva ID. This solution aims to enhance the convenience and safety of passengers at every stage of their journey, from ticket purchase to boarding.
CONTEXT
To meet customers' ever-growing expectations, airports and airlines are continuously exploring new trajectories to keep passengers happy and operations efficient. These initiatives span beyond the terminal, allowing for quick onboarding and easy ticket purchase, as well as inside the terminal, enabling travelers to breeze through the airport without experiencing delays, disruption, or confusion.
CHALLENGES
Moving thousands of passengers through long airport queues to navigate check-in, security, and boarding is a cumbersome and stressful process for both airport personnel and passengers. With an unwavering commitment to re-navigating the passenger experience and enhancing airport efficiency through digital transformation, Viva Aerobús sought a technology provider that could help them elevate the passenger experience with more impact, convenience, and security – a true competitive differentiator – while achieving greater operational simplicity for airline personnel.
Closing 2022 with a staggering figure of 20.6 million passengers flying domestically and abroad, the company aimed to deploy a flexible and spoof-proof solution to accurately and quickly authenticate travelers across different locations while safeguarding personal data.
SOLUTION
Incode's seamless identity verification solution perfectly aligned with what Viva Aerobús was seeking. The resulting Viva ID solution allows travelers to create an Incode ID Wallet via their mobile devices and check-in prior to arriving at the airport by enabling biometric identity verification and the sharing of personal information, such as government identity documents.
With a single glance, mobile authentication grants travelers access to their Incode ID Wallet with linked passes, enabling them to breeze through airport security lines safely and start their journey feeling relaxed. The project is fully operational, with potential for the solution to be integrated with self-service airport kiosks and expanded to other applications.
RESULTS
Faster Onboarding With Maximum Security
By introducing an automated and frictionless onboarding flow, bolstered by accurate identity verification using a selfie and a government identity document, Incode and Viva Aerobús ensured that travelers' experiences are enhanced from their first contact with the app. The process is friendly, convenient, and brisk, all while ensuring that sensitive data is well protected.
Premium Travel Experience
Viva ID is an innovative digital solution that elevates the traveler experience to new heights. By seamlessly combining convenience and ease of use, passengers can access their digital wallets anytime, anywhere, without the delays caused by fumbling for boarding passes. The solution also eliminates the need for travelers to carry their physical documents at all times, providing the utmost convenience and peace of mind in case of loss or forgetfulness.
Customer Service Efficiency
The solution's capability to identify users in less than 2 seconds significantly accelerates and enhances airport operations, providing convenience for the hundreds of thousands of Viva Aerobús' passengers boarding the plane each week. It offers a substantial reduction in the time travelers spend in line compared to traditional check-in procedures at airports.
SUMMARY
The implementation of Viva ID effectively alleviates airport hassles by accelerating the flow of travelers through checkpoints and reducing queue times. The solution unlocks a friendly and accessible traveler experience throughout the entire journey, from ticket purchase to boarding.
This project demonstrates that Incode's seamless identity verification solution is designed with speed, convenience, and security in mind, elevating travelers' experiences and enhancing Viva Aerobús' operations. The project contributes to the further digitization of the airport ecosystem while ensuring passenger data remains safe, thus fostering brand loyalty among customers.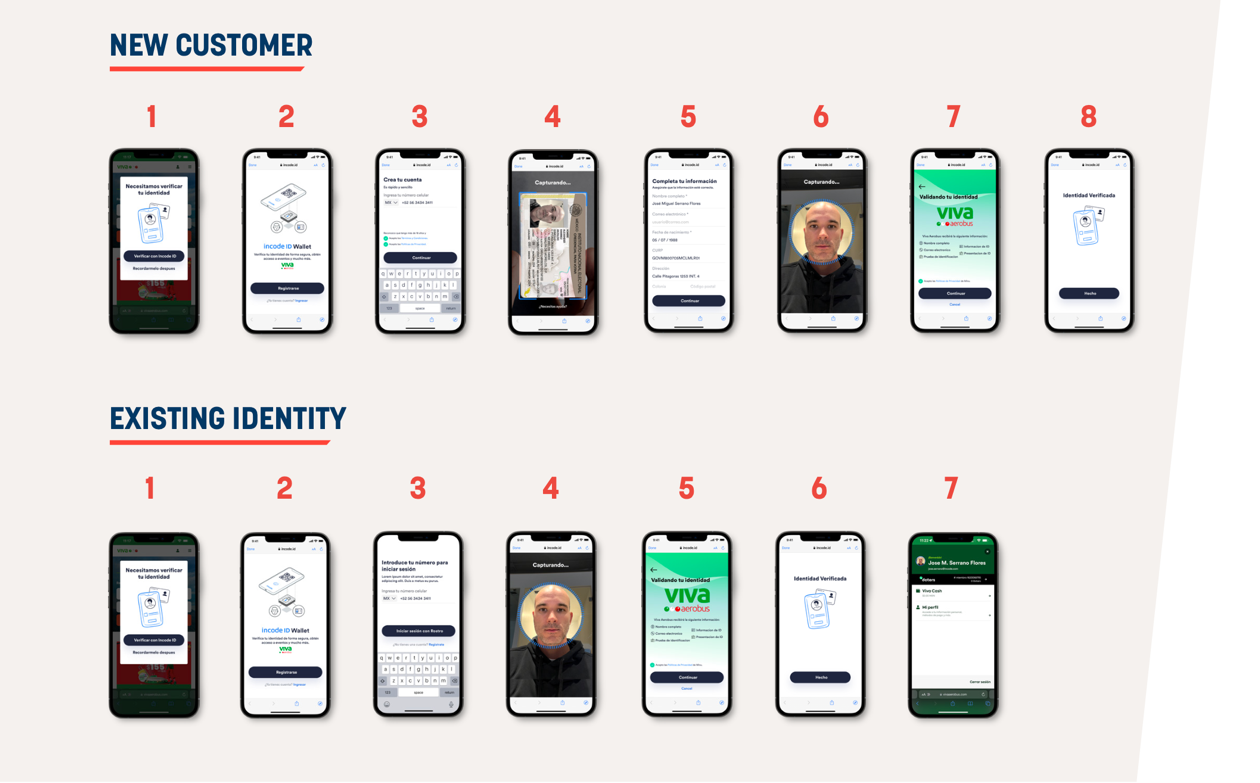 —
About Incode
Incode is the leading provider of world-class identity solutions that is reinventing the way humans authenticate and verify their identity online to power a world of digital trust. Incode's revolutionary identity solutions are unleashing the business potential of universal industries including the world's largest financial institutions, governments, retailers, hospitality organizations, and gaming establishments by reducing fraud and ultimately, transforming human interactions with data, products, and services.